Aurora Water
Since 2006, we have performed our "design the future process" (healthy, high-performing, high-respect culture building) for nearly every facet of the utility: business services, water resources, water quality/environmental programs, utility billing, engineering, capital projects, operations and maintenance, treatment, and the water quality lab.
We also provided team chartering services throughout the life of the Prairie Waters Project.
Prairie Waters Project: 2006 – 2010
Click on PMI Logo for more information

PMI 2011 Project of the Year Winner
.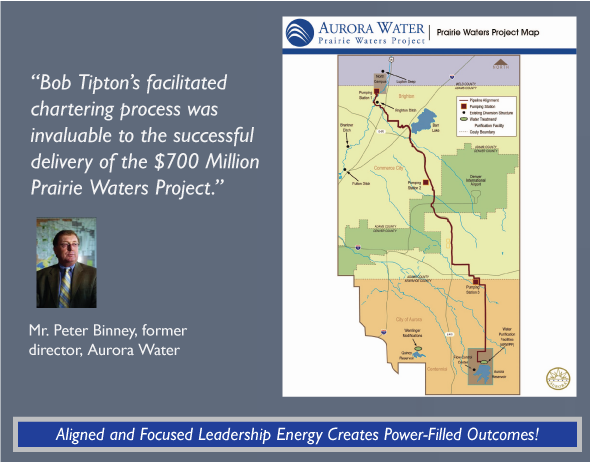 .
Challenge:
The largest, most complex capital project ever undertaken by the City of Aurora required the services of some 20+ different outside firms (engineers, consultants, etc.), and nearly all aspects of the Aurora Water department as well as most departments with in the City. Old rules needed to be reshaped, historic relationships needed to be reshaped, and the power of the team needed to be unleashed to the benefit of the City. There was no time or appetite for infighting, power-playing, or political posturing.
Solutions:
We provided a variety of services over the years — mostly in the categories of alignment, team and project chartering, as well as strategy and organizational development.
Benefit:
High performance team environment, effective communication, significant reduction in overall project costs (my work contributed a portion of the $101 million overall project savings).
Larry Catalano, Manager of Capital Projects, Aurora Water, talks about a culture of "What's Right, Not Who's Right" being central to the success of the Prairie Waters Project.
.
More of the Story:

.
We have been working with the City of Aurora (Colorado) and Aurora Water since 2006, focusing on helping various parts of the City, the utility (business services, water resources, water quality/environmental programs, utility billing, engineering, capital projects, operations and maintenance, treatment, water quality lab, etc.), as well as the Prairie Waters Project (a $700 million water project).
The PWP has formally come on line (dedication ceremony was on October 8, 2010), and we received this testimonial from Peter Binney (the former director of Aurora Water, and for whom Aurora's most recent state-of-the-art water treatment plant is named). The picture above is the Peter D. Binney plant — the centerpiece to Aurora's PWP.
Testimonial
"Aurora Water had to develop an effective project delivery team to support the planning, design, construction and startup of the $700 million Prairie Waters Program within a five-year delivery schedule. At initiation of the program, a core team of utility and city staff who had traditionally not worked on single focus projects were brought together to be integrated within a team of consultants and at a later stage, a group of contractors.
"There were many legacy issues with the various City departments to address as well as the need to form an integrated and high performing team with third party members. I needed to engage an effective chartering manager to ensure that all energies and efforts of the various project teams were focused on meeting the objectives of delivering the program on time, on budget and with the desired quality for a major public works project.
"I had previously worked with Mr. Bob Tipton on a smaller scale challenge with Aurora Water and asked him to assist the utility with facilitating the chartering process and to providing continuing assessment and recommending adaptations as the program was delivered. The reasons for retaining his services ranged from a personal style of effectively working with groups having disparate values, perspectives and styles of working to his acumen for identifying potential conflicts or disruptive behaviors and then suggesting paths for resolution to providing personal counsel on the dynamics of the group with insight into how we could keep moving forward.


"Those unique skills that he brought to the team as an outside advisor allowed me, as the executive sponsor, to focus on overall direction and interfacing with Council members and the community. The empowered work groups were able to develop solutions within their delegated areas of responsibilities with minimal disruptions.
"On reflection, I would share that the facilitated chartering process was invaluable to the successful delivery of Prairie Waters and that Bob Tipton's skills and commitment to the team's success were valuable and constructive. I have no hesitation in providing this affidavit of support and trust that he can be equally successful in meeting your needs.
"Please do not hesitate to call me directly if you have any questions or concerns that I can address."
Peter Binney, former director, Aurora Water