.


.
We have a belief that people don't resist change, they resist "being changed" without their permission, or their involvement.
Think about it — how many times have you received an ultimatum, or an edict from a boss, or have been "subjected" to the will of one political party or another, or have received a "cease and desist" notice from your homeowner's association because they don't like your choice of fencing, or house paint, or the "look" of your dog. For most people, events like these do NOT promote our willingness to change. Instead, we tend to deepen our resistance!
So… Why would most organizations continue to promote this approach to change — the dictatorial, autocratic, "or else" mode?
Because they're impatient, insecure, and afraid; that's why.
We have a COMPLETELY different approach to the world of change management — almost a counter-culture, anti-intuitive way of doing things. We believe that nearly everyone — when approached the right way — will not only embrace the process of change, but will bring their best ideas, their passion, their positive energy, and their excitement to the process. No, really — each of these things are possible!
Consequently, we've put together this new "Change Management Pro" website where we'll provide powerful examples of visionary, positive and enduring change. We'll also share tools and processes to help you along the. But overall, take a look around here to find inspiration, excitement and HIGH ENERGY when it comes to change. Believe it!
Thanks.
.
Our Services:
.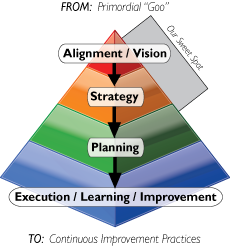 Click on each below to learn more:
Alignment
Vision
Strategy
Planning
.